LASTRADA Partners Continues to Expand with New Production Studio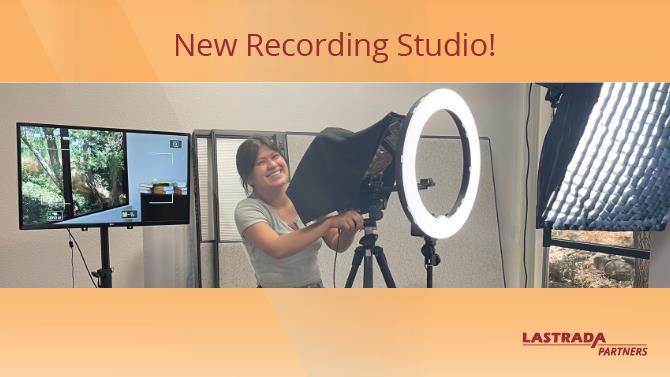 New Video Recording Studio
LASTRADA Partners is continuing to grow, and we've recently expanded our office space to include a permanent video production studio. Thanks to the help of our intern, Marisol Schifferle, we were able to get the new studio set up in record time.
With the new office space dedicated as a studio, we are excited to produce more video resources. Our Leveraging LASTRADA videos solve common industry problems with a long-form video and accompanying template, our Lightning Demos are a quick demonstration of a unique software capability in LASTRADA, and our Practical Pointers are aimed to show current LASTRADA users a quick tip or trick for getting the most out of the software. All of those videos and more can be located on our Resources page.
LASTRADA Internship Program
Marisol, a local high school student pictured above, is a production assistant setting up and breaking down our equipment. Marisol is one of many high school students that has had the opportunity to learn professional skills in an office environment through an internship with LASTRADA Partners.
We value interns as an integral part of our team, leveraging their contributions on critical projects that drive LASTRADA Partners forward. Like our employees, our interns are full contributors and often work cross-functionally with our various departments, enabling them to gain valuable hands-on experience while collaborating with the accomplished professionals on our team. LASTRADA Partners internships involve various aspects of on-the-job experience, mentorship, and training tailored to the student's education and interests.
Learn more about our internship program here, and email careers@lastradapartners.com for more information about current opportunities.
Video Recording Tips
Recording high-quality video isn't as easy as it may look. You have to consider lighting, audio, scripting, equipment, and many other factors to produce a high-quality video. Through much trial and error, we are proud of the quality of video we have put out and are continuing to learn even more new skills and tricks to get the best results possible. Here are some of our best tips for those looking to start or improve video recording:
Don't want to invest in an expensive lens? Try renting a high-quality lens from one of many lens rental websites.
Use a ring light to ensure the subject's face does not appear shadowed or washed out.
Document lighting, camera, and other settings for each person to make the next recording setup faster.
---
About LASTRADA Partners
LASTRADA Partners is a civil engineering software company bringing together progressive technology and engineering expertise to advance information management and quality control in the construction materials and geotechnical engineering industries. LASTRADA Partners has exclusive distribution rights to the LASTRADA™ quality control software platform in North America.