Access Multiple Binder Features in One Module
LASTRADA organizes what is usually stored in multiple spreadsheets into one module, with custom layouts and data storage. Pictured below, we have a binder specification module with information on various samples.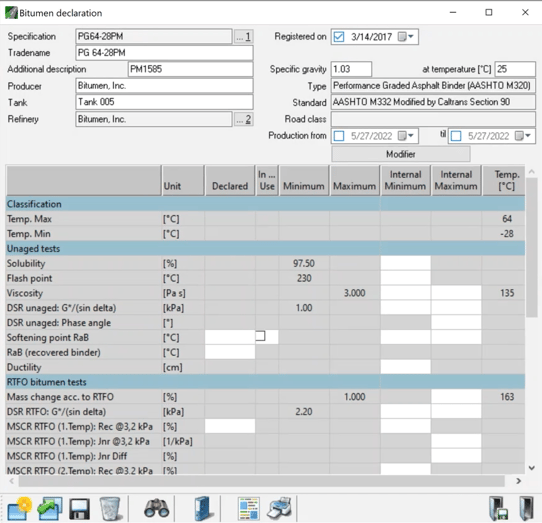 Work on Numerous Tasks Simultaneously
Flip between multiple interconnected modules by simply minimizing tabs or keeping windows up side by side to easily pull in data from one module to another. In the video, we show how LASTRADA replaces many common Excel workbooks including binder certificates of analysis, binder specifications, binder recipes, binder performance test results, company registration, contracts, projects, equipment calibrations, technician certifications, and statistical analysis.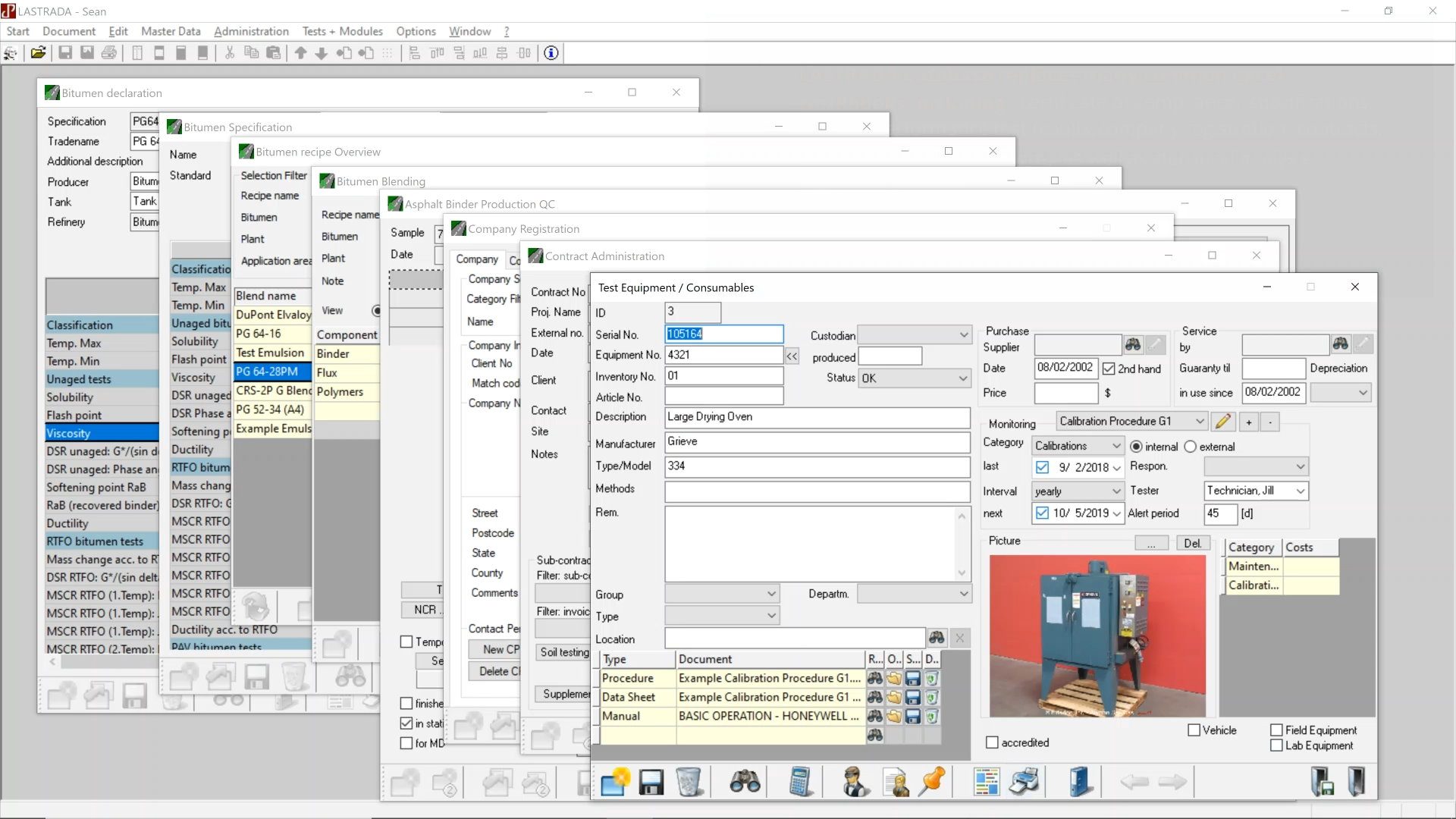 ---
VIDEO TRANSCRIPT
Excel is the most widely used software in our industry, but creating separate workbooks for each task in your workday and copying data from one to another creates a risk of errors, lost data, and security issues and ultimately takes up too much of your time. In this Lightning Demo, I'll show you how to start a centralized binder database stores was commonly kept in multiple spreadsheets in one system.
Let's start with the declaration. A declaration is a product in here. We have a binary declaration showing the properties of a product produced to meet a specification out of the facility. This would be equivalent to a certificate of compliance. Our declaration example is for 6428.
Here's the specifications. This contains the minimum requirements needed to create that product. Now that we have our declaration, our specifications.
Here's our recipes. Here's the recipe that we use to create that 6428 product production. QC sample of the 6428 used to collect test data when a technician creates a sample. Simple selections give them quick access to connected information as needed. As demonstrated here.
Here under our administration tab is where we store the locations of our production facilities our customer information, our supplier information, and our agency information is where we keep our projects. Our projects are connected to clients and can be assigned to QC samples so you always find test data for any project or client when you need it.

The last thing I'm going to show you is this oven. You can also manage all your equipment records and calibrations. Some equipment properties like pycnometer volumes are available for use by tests. Each of these specific screens you see here is typically stored in multiple spreadsheets. In LASTRADA the same information is stored in one database and connected helping you efficiently complete your work. Thank you for watching.
For more ways, LASTRDA can simplify your work, check out our other lightning demo videos at www.lastradapartners.com/ resources, or visit our contact page to speak with one of our engineers.