Depending on the system you're using, locating sample data for your customers or for internal purposes can be a bit of a challenge. If you're using Excel, file structure can make filtering difficult or even impossible. And in most QC programs, limited search function requires you to manually paste together data from multiple queries.
In LASTRADA, flexible filter and search options allow you to easily find and compile the data you need.
From within any module in LASTRADA, you can query data by using a combination of drop down selections and radio buttons.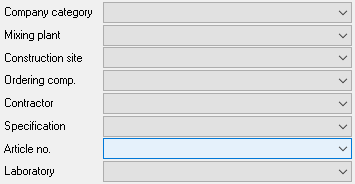 Once the data is queried in, you can sort the data to easily locate the information you need. From there, selecting a single sample or multiple samples will open up the sample dialogue where you can review, edit and run reports.
This filter and sort functionality is available in binder QC, aggregate QC and every other module in LASTRADA. And in sample management and other select modules, you can also perform wild-card searches.