Creating Labels in the Sample Management Module
Labs that want to receive a sample and label containers can use the sample management modules to log all the relevant information. You can then run the desired label template by clicking the button highlighted below.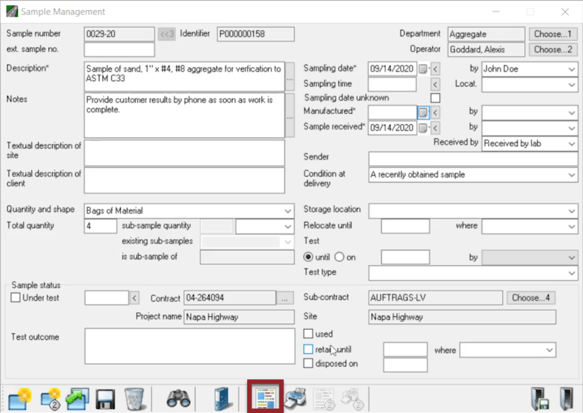 Information is pre-filled and print-ready.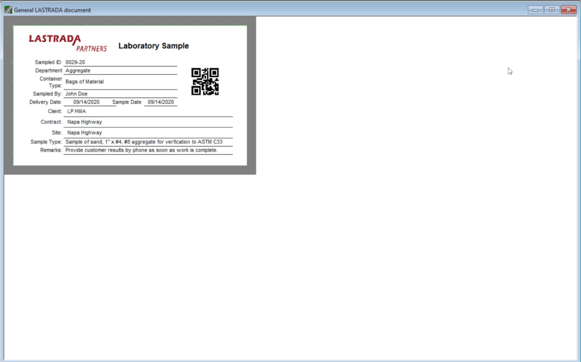 Creating Labels from the Asphalt Mix Sample Module
Log samples during production QC in the Asphalt Mix Sample Module to easily print a label for your container using the button highlighted below.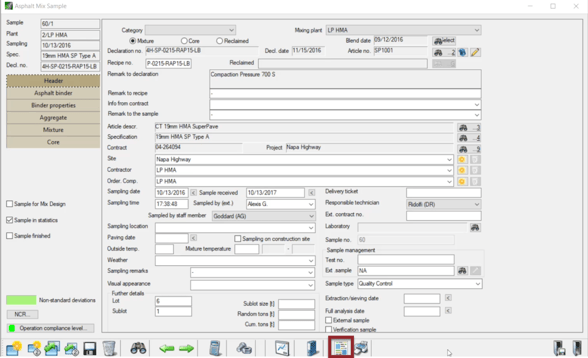 Print as many labels as you need using our label templates.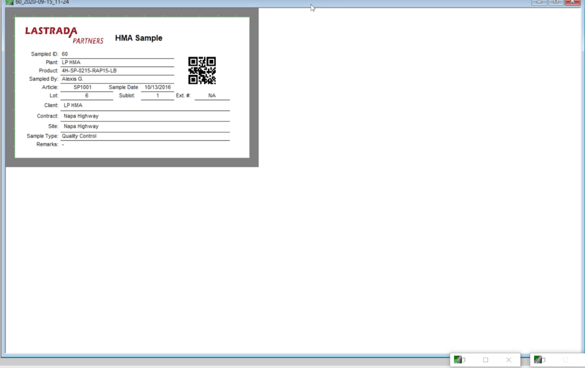 Visit our Customer Resource Center to download the sample tags and view the recommended printer settings in this demo. We recommend using 3in x 5in desktop thermal transfer labels (Uline, S-17000) and 3.30in x 244ft desktop thermal transfer ribbons (Uline, S-8037), and the Zebra GK420t Direct Thermal/Thermal Transfer Printer*.
*LASTRADA Partners is not affiliated, associated, authorized, endorsed by, or in any way officially connected with the brands listed above. or sponsored by any hotel. All product and company names are the registered trademarks of their original owners. The use of any trade name or trademark is for identification and reference purposes only and does not imply any association with the trademark holder of their product brand.
Labels after put in a 350 degree oven: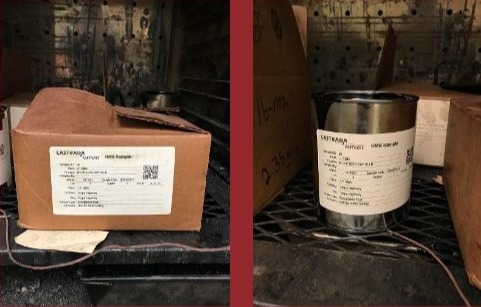 For more information on how LASTRADA helps private 3rd-party labs and internal engineering labs, visit our laboratory solutions page.
---
VIDEO TRANSCRIPT
A requirement of all laboratory accreditation programs is to label every bag box and bucket of material processed in CMT labs. Repeatedly handwriting the same information on multiple containers is tedious if done at all. Finding labels that can withstand the condition of a laboratory environment is challenging to say the least.
In this Lightning Demo, I'll show you how to generate a label with little to no effort using a recommended label and printer combinations, which withstand a 350-degree oven, as well as weeks in a damp aggregate bag.

We highly recommend Zebra Direct Thermal/ Thermal Transfer Monochrome Printer GK420T. You can read about the printer as well as view the specification sheet on the Zebra website.
I am a private lab and I have received a sample and I want to label all the containers. I have logged in all the relevant information. Next, I need to go ahead and run the label template. You can see all the information is complete and ready to be printed and put on the containers. I am doing production QC and I have logged my samples. From here I'm going to print a label for my containers. I can print as many labels as I need.

The sample tags I used in this demo are available for download in our Customer Resource Center, as well as instructions for our recommended printer settings. For more ways, LASTRADA can simplify your work check out our other Lightning Demo videos at www.lastradapartners.com/resources or visit our contact page to speak with one of our engineers.