Sample Quality Control Data
LASTRADA stores both IDEAL-CT data and Hamburg data in the Asphalt Mix Sample module, along with aggregate gradations and other relevant information.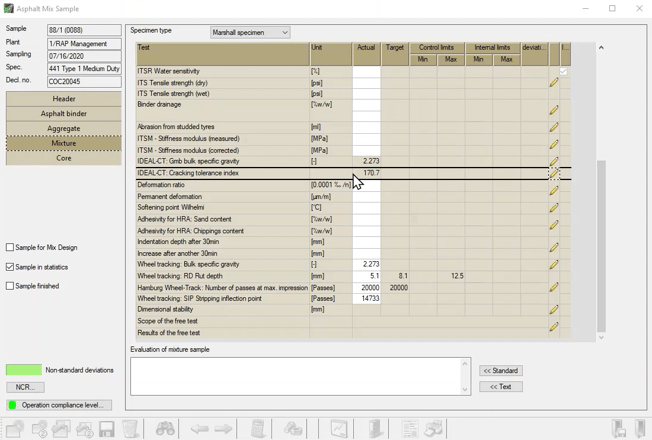 Bulk Specific Gravity
Enter data from up to 8 specimens, and exclude samples that don't meet air void criteria with a checkbox feature in the Bulk Specific Gravity module.
8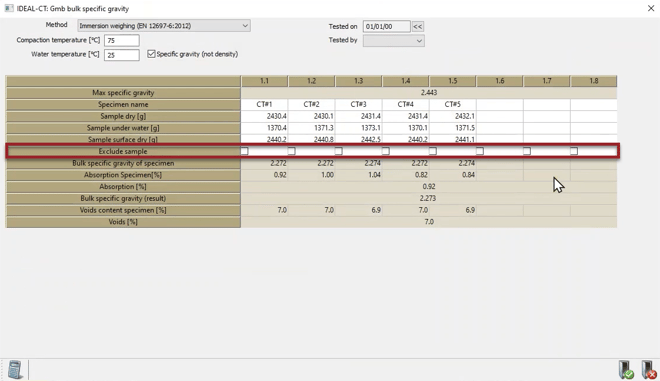 Generate Reports
With your data entered in LASTRADA, you have the option to generate various reports with the click of a button. These include a balanced mix design report complete with all the relevant volumetric properties, a detailed IDEAL-CT report that goes over the sample data compared to the averages, another balanced mix design report that shows Hamburg data, an in-depth balanced mix design report that shows the details of both Hamburg and IDEAL-CT data, and a modified DOT report that includes balanced mix design information. Below we have shown the performance summary report.
*NOTE: All LASTRADA reports can be downloaded and further edited by LASTRADA users.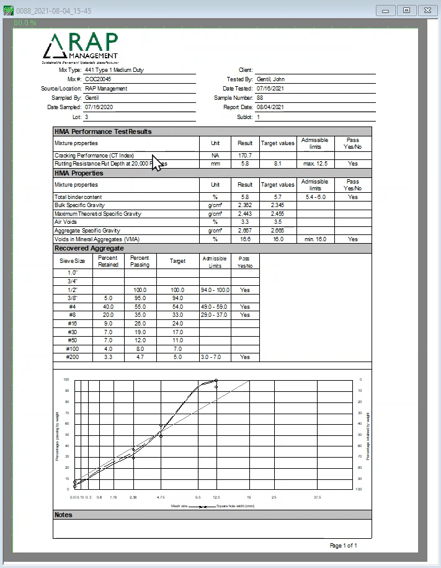 Below is the performance detail report with detailed information about IDEAL-CT and Hamburg wheel tracking together.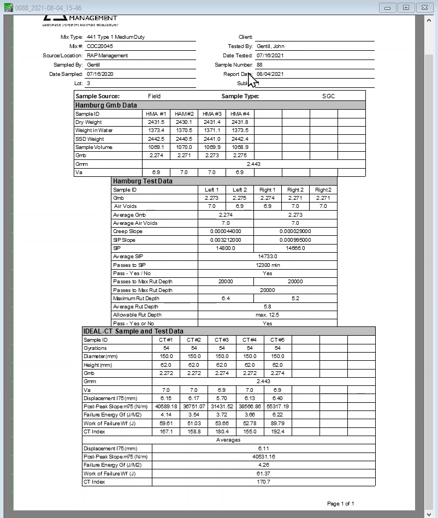 The reports above were built with our customers at RAP Management. RAP Management is a Sustainable Pavement Materials Manufacturer based in Columbus, Ohio. They produce precision-engineered, high-quality asphalt while averaging 55% RAP (Recycled Asphalt Product) through their facility, raising the bar for the construction industry.
For more information on how LASTRADA helps asphalt producers, visit our asphalt solutions page.
---
VIDEO TRANSCRIPT
In this Lightning Demo, we will show you how LASTRADA helps users determine the most efficient approach to fabricating IDEAL_CT specimens, database the IDEAL_CT test results along with other mix plant aggregate, and binder data for analysis. For this Lightning Demo, we're going to use hot mix test data from RAP Management in Columbus, Ohio on a mix using high amounts of recycled asphalt pavement.
Here's quality control data on a sample that has both IDEAL-CT data and Hamburg data along with aggregate gradations and binder content and other relevant mix information. Users start by entering bulk specific gravity of their IDEAL-CT specimens here. LASTRADA accommodates up to eight specimens. Users can exclude those specimens that do not meet their air void criteria by checking this box. Users next enter their IDEAL-CT data on this screen. The bulk specific gravity information is recalled using this blue button. All of the associated data files from the IDEAL-CT machine are saved here and all of the test results are loaded down here with all the data.
In LASTRADA they can now generate a number of reports like these. A balanced mix design report showing both CT index reading resistance, along with other volumetric and aggregate properties. A detailed IDEAL-CT alone report showing air voids and other properties of the samples, along with the reported averages a balanced mix design report, showing both Hamburg data, a detailed balance mix design report, showing detailed information about both the Hamburg and the IDEAL-CT test together and the required Ohio DOT hot mix asphalt reporting form modified to include both IDEAL-CT and Hamburg information.
For more ways, LASTRDA can simplify your work, check out our other lightning demo videos at www.lastradapartners.com/ resources, or visit our contact page to speak with one of our engineers.