Hot Mix Asphalt Sample
From the Asphalt Mix Sample module overview, select mixture on the lefthand menu to pull up a selection of tests. LASTRADA's HWT data entry components (sample Gmb and HWT) are highlighted below.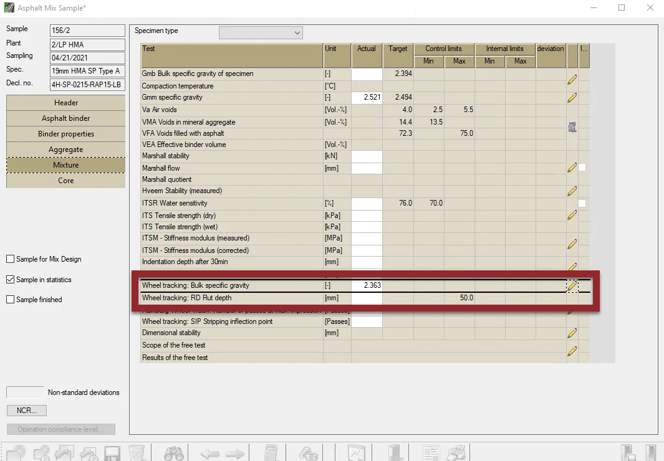 Bulk Specific Gravity
Add up to 8 replicates and select 4 using LASTRADA's Bulk Specific Gravity wheel tracking grid.
8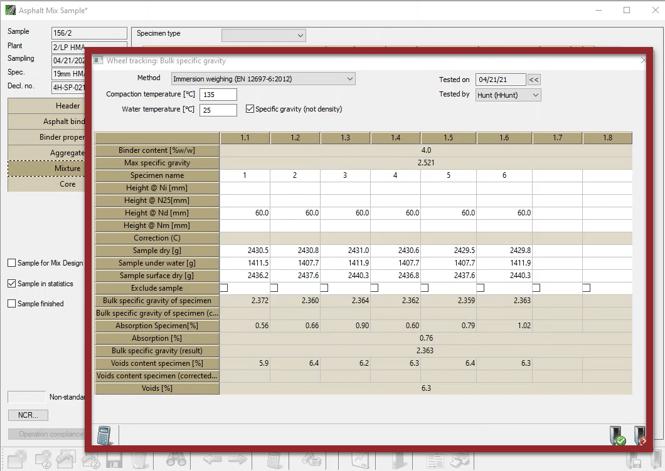 Rutting Tests
Pull in your bulk specific gravity information by using the button below, and enter the remaining information required for the selected test method. Import test data and documents using the top-right menu.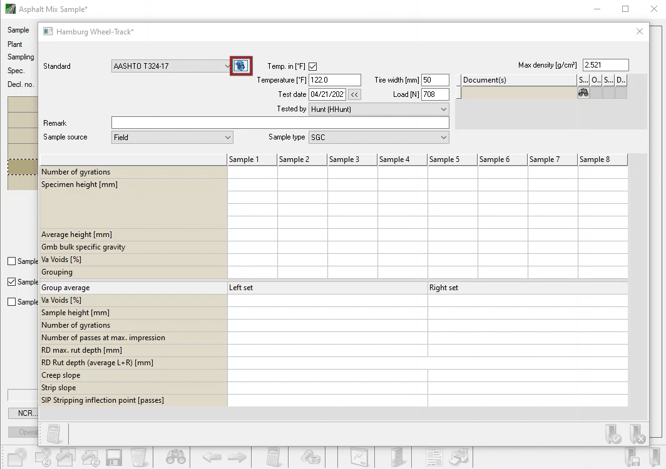 Look for our next videos on I-FIT, IDEAL-CT, new asphalt balanced mix design module, asphalt performance tool, and more.
For more information on how LASTRADA helps asphalt producers, visit our asphalt solutions page.
---
VIDEO TRANSCRIPT
There are two important tasks when implementing a performance test like Hamburg Wheel Tracking. First, the software needs to streamline data entry and calculations while providing insight on how to fabricate samples efficiently in the future. Second, the performance data needs to be combined with other performance data and relevant QC information for analysis. This first video in our balanced mix design series will show you how we designed our Hamburg test to perform these tasks and be the model for the next performance tests to come.
Here's a hot mix asphalt sample you would see both from sample management if you are a private lab or from asphalt quality control. If you were a plant here is the old LASTRADA Hamburg Wheel Tracking Test data entry grid. Where you can enter your left and right, front and back samples, along with their results. Now Hamburg Wheel Tracking data entry is separated into two components. The first component is for entering bulk specific gravity information in this grid. I can enter up to eight individual subsamples, from which I select four to test. The second data entry dialog is where we enter our Hamburg Tracking Test results. The first thing we do is use this button up here to retrieve our bulk specific gravity information. I retrieve my bulk specific gravity information and then I enter the remaining information required by the test method. I choose which specimens are going to be used on the left and the right. I then enter the results for my Hamburg Test and lastly I can import documents that are relevant to this test, like a data file or a completed report that I like. Now I have everything I need.
Coming in the summer of 2021 IDEAL-CT and I-FIT to keep working our balance mix design module to completion. Be sure to look out for the next videos in our balance mix design series demonstrating I-FIT ideal IDEAL-CT and other performance tests and our new asphalt balance mix design analysis tool. This tool will be a game-changer for more ways LASTRADA can simplify your work check out our other lightning demo videos at www.lastradapartners.com/ resources or visit our contact page to speak with one of our engineers.