Our goal at LASTRADA Partners is to help you improve quality and reduce costs without creating more work. That's why we've introduced a new onboarding program that takes the burden of implementation off of your team and allows you to begin using LASTRADA sooner.
How does LASTRADA Fast Track work?
With this new program, the LASTRADA Partners engineering team manages the necessary setup work to ensure LASTRADA™ is ready for your team to use immediately. This process allows us to deliver a system that is 75-95% configured before the first day of training.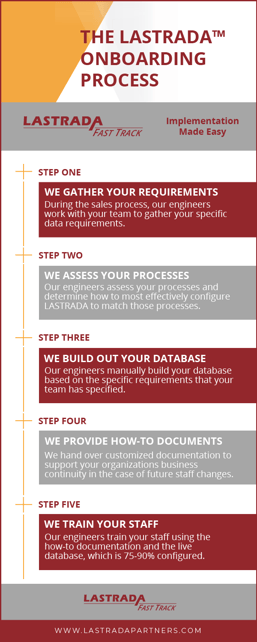 Step #1
To start the process, we provide your team with a setup questionnaire that will allow us to gather your setup requirements, such as numbering schemes, staff and user rights info, company categories and more. This is an example of the company category questionnaire we'll send to your team.
Step #2
Once the completed questionnaire received, our engineers contact your team to discuss your processes and how to best support those processes when we configure your database..
Step #3
Our team begins the database configuration process based on the information we've gathered and discussed with your team.
Step #4
We build out comprehensive how-to documentation to detail how the database was configured, and explain why certain options were chosen by our engineers. In this documentation, we include how-to instructions detailing the exact steps your team can take to to make changes in the future, if necessary.
Step #5
The last step in the process is to go live with your configured database so that training can occur using your live system, which at that point, should be 70-90% configured.